February 9, 2016 —Ala Daibes, owner of North Jordan Mountain Bike Center stands in his center shortly after the grand opening.
---
The breathtaking natural sites in the north of Jordan finally get the chance to be discovered after opening the first mountain bikes center in Irbid
Irbid's First Mountain Bike Rental Center Encourages Tourism in the North of Jordan
"Pristine mountains, breathtaking scenery and beautiful nature wherever you look. That's what the North of Jordan is all about. But the problem is that most people are completely unaware of the hidden gems that we have out there, and therefore never visit", says Ala Daibes, founder of North Jordan Mountain Bike Center.
Jordan's adventure tourism sector has great potential for growth as it attracts high value customers and supports local communities by creating long-term employment opportunities. More importantly, the majority of small businesses that operate in this sector are passionate about preserving the environment and encouraging sustainable practices.
Born and raised in the north of Jordan, Ala always dreamed of seeing this part of the country bloom and thrive with not only international tourists, but also locals and expatriates. He knew that the northern region has the perfect conditions for cycling and can be turned into attractive touristic hub, and he devoted his time to establishing a business for expressly that purpose. In 2015, Ala applied for a grant from USAID Local Enterprise Support Project (LENS) to establish the very first mountain bike rental shop in the north of Jordan. His business not only aims to provide cycling activities, but also to build partnerships with other local business to offer customers a more well-rounded tourist experience.
With support from USAID LENS, Ala rented a shop in Al Huson, a small town on the outskirts of Irbid, and turned his dream into reality by opening the "North Jordan Mountain Bike Center".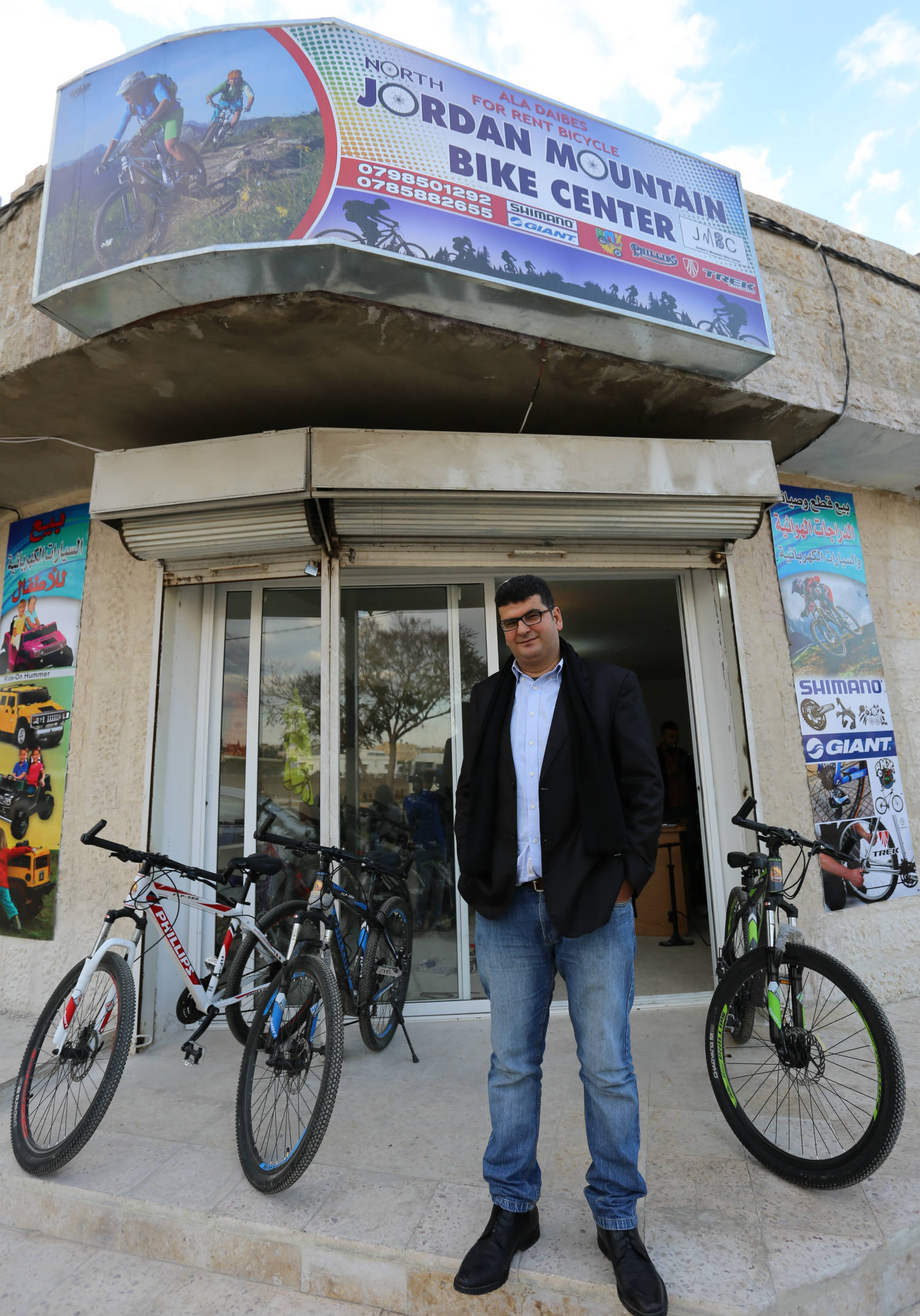 A picture of Ala in front of North Jordan Mountain Bike Center in Al huson, Irbid.
---
From creating local jobs to increasing youth engagement and hiring women, the opening of Ala's touristic bicycle center is only the start of what promises to be a thriving industry in the North. Through on-the-job training, Ala trains youth from the local community and teaches them everything about bicycle repairs to equip them with valuable skills that enable them to become experienced in the field. But according to Ala, this is only the beginning of his business journey:
"Opening this center has been a real achievement that I couldn't be more proud of. But I still want to do more. I want us to become the first bicycle manufacturers in Jordan; where everything is locally made by locals for the locals". – Ala Daibes.